Designed with and for professionals in the traditional firewood sector, LOGCUT products are aimed for users wishing to minimize their operating costs while considerably increasing their production efficiency and keeping their workforce low. The LOGCUT MCS40 is an innovative patented machine designed for production site transforming from 1000 cords of firewood up to several thousands cords a year (3000 to more than 20 000 steres/year).
The LOGCUT MCS40 is a very modular machine due to the variety of equipment available ranging from the choice of drive type to the length of the desired feed deck.
Specifications and list of equipment for the LOGCUT MCS40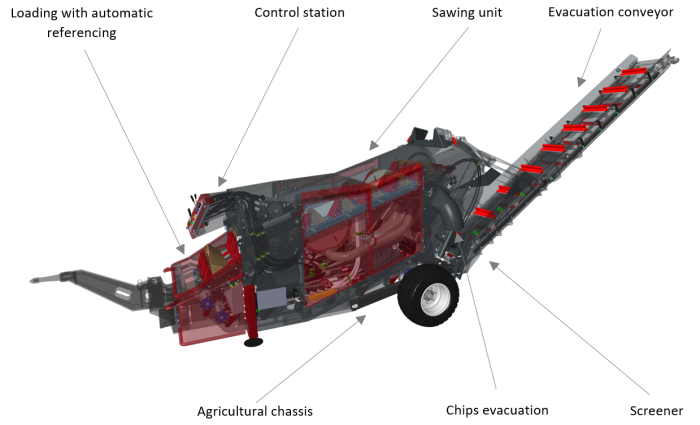 Z
Sawing unit
4 150kg
M
Cut to length
150kg
T
Evacuation conveyor with low energy requirement screener
1 450kg
A
Auxiliary hydraulic output.
30kg
C
Agrarian chassis
550kg
S
Removable CAT2 lower linkage hitch
150kg
H25
25 km/h road approval (Mobile or Profit Pack without deck extension DR)
50kg
B
Original filling with biodegradable oil
NA
| | | |
| --- | --- | --- |
| D | Automated feeding deck | 2 750kg |
| DR | Deck extension | 750kg |
| DE | Electric-Driven | 400kg |
| DS | Removable CAT2 lower linkage hitch for the Deck | 150kg |
The LOGCUT MCS40 intervenes during the last stage of the so-called "traditional" firewood production process: the operation of re-sawing wood from 40in logs (1m). Its multi-blade concept allows the LOGCUT MCS40 to saw logs in a single pass, allowing it to obtain a constant rate of logs, whatever the length to be obtained. With up to 300 cuts per minute in 25cm with systematic resizing, its sawing capacity can reach 10 cords/hour (40 cubic meters/hour) of wood. The length change in 10, 13 or 20in (25, 33 or 50cm) is done without manual intervention and in less than 30 seconds.
Logs loaded manually ("Mobile Pack") or automatically (Profit / Static packs) is automatically stopped by the referencing rollers located at the entrance of the conveyor, allowing a high loading rate.
The logs are automatically resected to 40in logs (1m) thanks to the cut-to-length saws.
The wood pusher cleats then take the logs to the circular saws where it will be shaped.

Click here to see the video presentation of the LOGCUT MCS40
The sawing capacities of the LOGCUT MCS40 are as follows: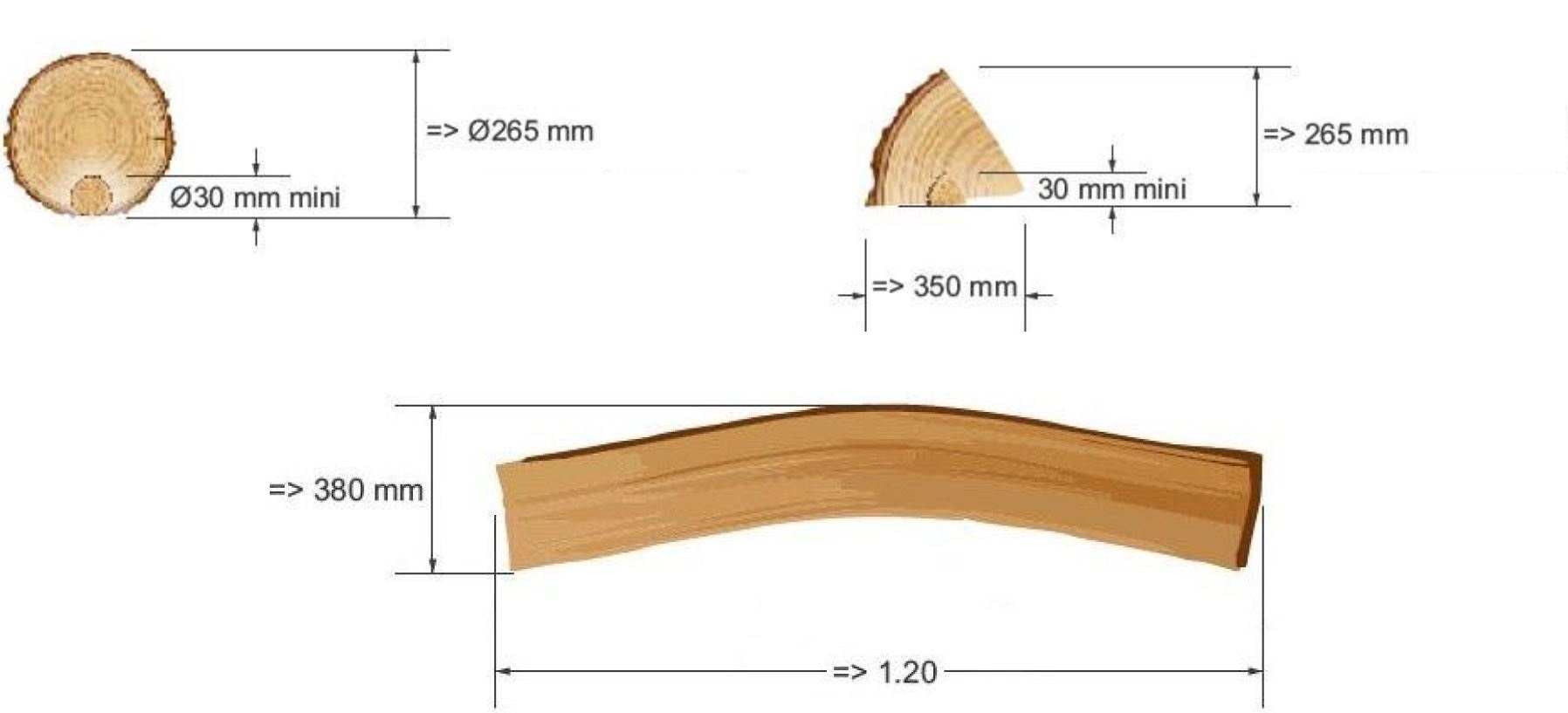 The LOGCUT MCS40 is offered in 3 basic packages, described below. These configurations are completely flexible:
| | |
| --- | --- |
| | High performance sawing unit with manual loading by one or more operators. Configuration which guarantees maximum mobility of the machine. |
Sawing unit with automatic loading in bulk or bale, ideal configuration for a machine operator and a crane operator while remaining mobile (base deck length: 3.6 m).

Sawing unit for fixed installation. Automatic bulk or bale loading. Configuration that can operate from a single operator (base deck length: 5 m)
Ideal for a producer who's able to bring the logs to the machine.